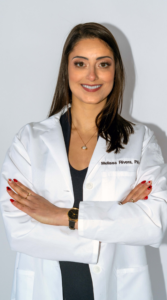 Melissa Rivera is a nationally certified Physician Assistant currently working at the Center of Dermatology, Laser, & Cosmetic Surgery alongside Dr. Farber. She has been a practicing Physician Assistant since 2014 & received her botox & filler certification in 2021.
Ms. Rivera received her bachelor's degree from the University of Delaware. She further completed a master's degree in Physician Assistant studies at the Philadelphia College of Osteopathic Medicine. She is also an active member of the American Academy of Physician Assistants and the National Commission on Certification of Physician Assistants.
Ms. Rivera understands the needs of her patients and treats every person with the compassion, respect, and attention they deserve. Her calm persona and friendly attitude make patients feel comfortable and they leave the clinic feeling assured that their dermatological needs are well taken care of. She is extremely passionate about her work and receives satisfaction from the fact that her patients feel comfortable and confident when they come to visit her.