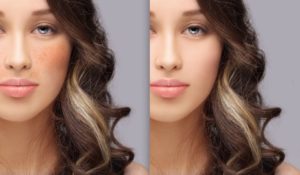 Melasma is a skin disorder that causes brown to grayish-brownish patches that normally appear on the face such as the forehead, cheeks, bridge of the nose, and above the upper lip. The condition can also appear in areas that have to receive lots of sun exposure such as the arms and neck.
The cause of melasma remains unclear but most likely can occur due to the overproduction of melanocytes in most people of color. Melasma can be triggered by exposure to UV light can cause more patches to develop, certain skincare products and hormonal changes such as pregnancy, birth control or hormone replacement medications.
Symptoms include:
Brown to grayish-brownish patches appearing on

cheeks,
forehead,
bridge of the nose,
chin and upper lip
At the Center for Dermatology, Laser and Cosmetic Surgery, Dr. Farber has over 30 years of experience in appropriately diagnosing and treating patients with Melasma. Dr. Farber is up to date on treating the condition both medically and cosmetically making sure our patients are leaving their appointments with the realistic hope of having beautiful, healthy skin.
If you or someone you know may be experiencing melasma, call us today at Center for Dermatology, Laser and Cosmetic Surgery to schedule your appointment with Dr. Farber.
Philadelphia Main Line, Office
Center for Dermatology, Laser, and Cosmetic Surgery
915 Montgomery Avenue
Suite 204
Narberth, PA 19072
Phone: 610-664-4433
North East Philadelphia Office
Center for Dermatology, Laser, and Cosmetic Surgery
9892 Bustleton Avenue
Suite 204
Philadelphia, PA 19115
Phone: 215-676-2464