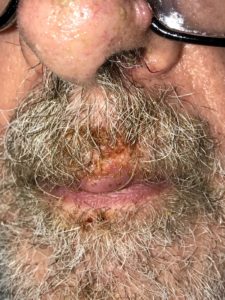 Impetigo is a highly contagious skin infection that commonly occurs in infants and children. Red sores developed around areas of the nose, mouth, hands, and feet. These sores can break open and develop crusts.
The cause of impetigo is due to exposure from bacteria from an infected person such as sharing contaminated clothing, toys, towels and bedding. Risk factors for impetigo include children between the ages of 2-5, environments where impetigo can be easily spread such as school, gym and swimming pool areas, contact sports and broke sores.
Impetigo Symptoms include:
Red sores that quickly rupture and oozes pus
Sores that begin to crust over with a brownish-yellowish color to them
Mild itching and soreness
Swelling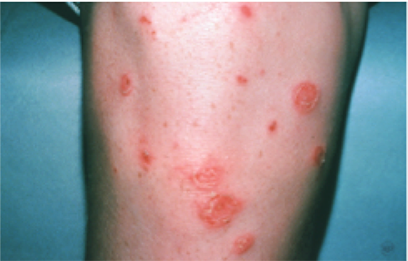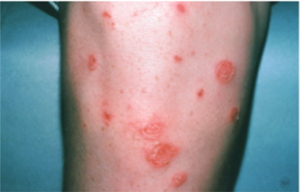 Complications can arise if left untreated. Bullous impetigo is a less common infection where blisters can appear on trunks of infants and children. Ecthyma is another serious infection where impetigo dives deeper into the skin causing painful, fluid-filled pus sores that can turn into ulcers. Other complications include cellulitis, kidney damage and scarring from sores.
At the Center for Dermatology, Laser and Cosmetic Surgery, Dr. Farber has over 30 years of properly diagnosing and treating pediatric patients of the infection. Dr. Farber is up to date on all the latest medications used to treat the disease.
Here, at the Center for Dermatology, Laser and Cosmetic Surgery, we understand that we want the best for our children and we want the best of care whatever medical concern it may be. If your child or someone you may know is experiencing a possible outbreak of impetigo, do not hesitate and call for your child's appointment with Dr. Farber. The sooner he can diagnose and treat your child, the faster they can go on and continue leading their healthy and energic lives.
Philadelphia Main Line, Office
Center for Dermatology, Laser, and Cosmetic Surgery
915 Montgomery Avenue
Suite 204
Narberth, PA 19072
Phone: 610-664-4433
North East Philadelphia Office
Center for Dermatology, Laser, and Cosmetic Surgery
9892 Bustleton Avenue
Suite 204
Philadelphia, PA 19115
Phone: 215-676-2464