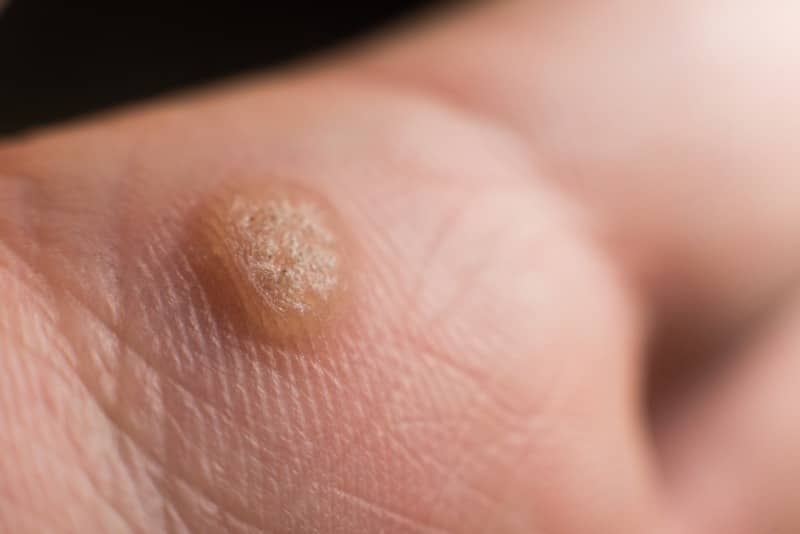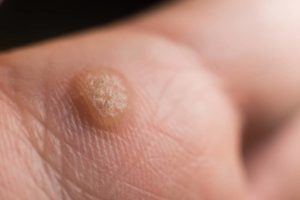 Warts are benign (not cancerous) skin growths that arise when a virus infects the top layer of skin. Viruses that cause warts are known as human papillomavirus (HPV). You're more inclined to receive one of these viruses if you cut or damage your skin in some way.
Wart viruses are infectious. Warts can spread by contact with the wart or something which touched on the wart.
Warts are often skin-colored and feel rough, but they can be dark (brown or gray-black), flat, and smooth.
WARTS: SIGNS AND SYMPTOMS
There are a couple of different kinds of warts. The type depends upon where it grows on the human body and what it looks like. The following clarifies the signals (what an individual sees) and symptoms (what an individual feels) for some of the various kinds of warts or molluscum.  (also known as verruca Vulgaris)
Should you find a wart on your child's face, assess your kid's hands for warts. The virus that causes warts may spread from the hands to the face via touch or nail-biting.
Frequent warts have these traits
Grow most often on the fingers, around the nails, and on the backs of the palms.
Are more prevalent where the skin was broken, for example from biting fingernails or choosing at hangnails.
It can have black dots that look like seeds (frequently called "seed" warts).
Most frequently feel like rough bumps.
Plantar warts possess these traits:
Grow most often about the soles (plantar surface) of the toes.
Often are level or grow inward (walking creates pressure, which causes warts to develop inward).
Can hurt, feels as you've pebbles on your shoe.
It can have black dots.
Flat warts possess these traits:
It can happen anywhere.
Kids usually get them on the face.
Men buy these most often from the beard area,
women have a tendency to receive them on their legs.
Tend to grow in large numbers — 20 to 100 at a time.
Filiform warts have these traits
It looks like long threads or thin fingers that stick out.
Often develops on the face: around the mouth, eyes, and nose.
Often grow quickly.
HIV weakens the immune system, so the body often cannot combat the virus that causes warts.
WARTS: WHO GETS AND CAUSES
Who gets warts?
Anyone can get warts. Some individuals are more prone to having a wart virus (HPV) than others. These individuals are:
Children and adolescents.
The Center for Dermatology, Laser, and Cosmetic Surgery treats warts that hurt, bother the child, or quickly multiply.
What causes warts?
Viruses are known as human papillomavirus (HPV) cause warts. It's a lot easier to catch a virus that causes warts whenever you have a scrape or cut on your skin. This explains why so many children get warts. Warts are more common on parts of the body that people shave such as the beard area in men and the legs in women. You are able to spread warts from one place in your own body into another.
Warts can spread from person to person. You can get warts from touching a rash on someone's body. Some people get sandpaper after touching something that another person's wart touched, such as a towel. It often requires a few months for warts to grow large enough to see.
WARTS: DIAGNOSIS AND TREATMENT
How does Dr. Harold F. Farber, MD diagnose warts?
Dr. Harold F. Farber, MD a Philadelphia Dermatologist can tell if you've got a wart by studying it. In rare situations, he may have to perform a skin biopsy to be sure. If he should perform a biopsy, the wart will be removed and shipped to a lab. At the laboratory, a little piece of the wart is going to probably be looked at under a microscope.
A biopsy is a safe and fast procedure for the staff at the Center for Dermatology, Laser, and Cosmetic Surgery to perform. It shouldn't cause any stress.
How can physicians treat warts?
This is particularly true when kids get warts. In adults, warts may not disappear as easily or as quickly as they do in children. Although most warts are benign, Dr. Harold F. Farber, MD does treat them.
You should visit the Center for Dermatology, Laser, and Cosmetic Surgery if you can't eliminate warts, the warts harm, or you have many warts. We have many remedies for warts. The treatment used depends on the individual's age and health as well as the type of wart.
Dr. Harold F. Farber, MD may use one of the following treatments:
Cantharidin: He may treat a wart at work by "painting" it using cantharidin. Cantharidin causes a blister to form beneath the wart. Within a week or so, you can return to the office along and the dead wart will be clipped away.
Cryotherapy: For common warts in adults and older children, cryotherapy (freezing) is the most frequent remedy. This treatment is not too painful. It can cause dark spots in those who have dark skin. It is normal to need repeat treatments.
Curettage involves scratching (curetting) the sandpaper using a sharp knife or small, spoon-shaped tool. Both of these procedures often are used collectively. Dr. Harold F. Farber, MD may remove the wart by scratching it off before or after electrosurgery.
Excision: Dr. Harold F. Farber, MD may cut the wart (excision).
If the warts are hard-to-treat, Dr. Harold F. Farber, MD can use one of the following treatments:
Laser treatment: Laser therapy is a choice, mainly for warts that have not responded to other therapies. Before laser therapy, Dr. Harold F. Farber, MD can numb the wart with an anesthetic injection (shot).
Chemical lotions: When flat warts appear, there are often many warts. Because so many warts appear, "peeling" methods are often prescribed to take care of these warts. This implies you will employ a peeling medication in your home daily. Peeling medicines include salicylic acid (more powerful than you can purchase at the store), tretinoin, and lactic acid.
Bleomycin: A staff member at the Center for Dermatology, Laser, and Cosmetic Surgery can inject each wart using an anti-medication, bleomycin. The shots may hurt. They can have other side effects, such as baldness if specified in the palms.
Immunotherapy: This therapy utilizes the patient's own immune system to combat warts. This therapy can be used if warts remain despite other remedies. One sort of immunotherapy involves employing a chemical, for example, diphencyprone (DCP), to warts. A mild allergic reaction happens around the treated warts. This reaction may cause warts to go away.
The shots can boost the body's immune system, which gives the body the ability to resist the virus.
There's no cure for the wart virus. This means that warts can return at precisely the exact same site or look in a new spot.
Sometimes, it appears that new warts appear as quickly as old ones go away. This happens whenever old warts drop virus cells to the skin until warts have been treated. This permits new warts to grow around first warts. The best way to stop this is to get Dr. Harold F. Farber, MD to treat fresh warts as soon as they look.
WARTS: TIPS FOR MANAGING
Warts can often be treated at home. The following explains when you may safely treat warts in your home and when you need to see a dermatologist.
You can get some wart remedies without a prescription and care for warts yourself. This could be sufficient to eliminate warts. The one issue with self-treatment is that you might mistake another kind of skin growth to get a wart. Some skin cancers look like warts.
You need to see a dermatologist when you have:
A feeling that the growth isn't a wart.
A wart on your face or genitals.
Many warts.
Warts that hurt, itch, burn, or bleed.
Diabetes. Never try to eliminate any wart on your foot when you have diabetes. If you cut or burn your skin, then it could cause lasting damage to the nerves in your feet.
At-home remedies
You can use the following at home:
Salicylic acid: You can treat warts at home by applying salicylic acid. This medicine is available without a prescription. It comes in various forms — a gel, liquid, or plaster (pad). You should apply salicylic acid into the wart daily. Before applying the salicylic acid, make certain to soak the wart in warm water.
Salicylic acid is rarely painful. If the wart or the skin around the wart begins to feel sore, then you ought to stop treatment for a short time. It may take many months of therapy to have great results — even once you don't stop therapy.
Other home remedies: Some home remedies are benign, for example covering warts with duct tape. Altering the tape every few days might peel away layers of the wart. Studies battle, though, on whether duct tape really gets rid of warts.
Many people think certain folk treatments and hypnosis eliminate warts. Since warts can go away without treatment, it's hard to know if it's the folk treatment worked or warts just went away.
Consult Dr. Harold F. Farber, MD if you're not certain about the best way to deal with a wart.
To prevent warts from dispersing, the Center for Dermatology, Laser, and Cosmetic Surgery recommends the following:
Do not scratch or pick.
Wear flip-flops or pool shoes in public showers, locker rooms, and swimming areas.
Do not touch someone's rash.
Keep foot warts as moisture tends to allow warts to spread.
Philadelphia Main Line, Office
Center for Dermatology, Laser, and Cosmetic Surgery
915 Montgomery Avenue
Suite 204
Narberth, PA 19072
Phone: 610-664-4433
North East Philadelphia Office
Center for Dermatology, Laser, and Cosmetic Surgery
9892 Bustleton Avenue
Suite 204
Philadelphia, PA 19115
Phone: 215-676-2464