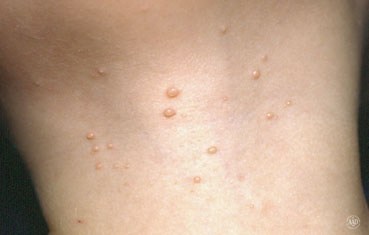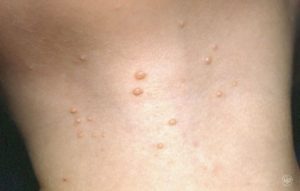 Molluscum contagiosum is a common skin infection caused by a virus and can look similar to a wart. Bumps appear on the skin as round, painless and can vary in size. If the bumps are scratched or break open, the risk of infection increases. Molluscum contagiosum can spread from skin to skin contact or through contaminated objects. The condition mainly affects young children but adults can also become infected. These bumps can disappear within a year but with medical attention, they can be removed easily as an option.
The cause for molluscum contagiosum can spread easily by skin to skin contact, coming in contact with contaminated objects, scratching or rubbing the bumps can cause the virus to spread to nearby skin.
Molluscum contagiosum Symptoms include:
Raised, round small bumps
Can become red and inflamed
May become itchy
Appearing on areas such as the face, neck, arms, hands, and legs
May also appear on genitals
Complications can arise if the bumps are scratched and break open causing redness and possible infections. If lesions appear on the eyelids, this can result in conjunctivitis (pink eye). If seen in adults, treatment should be performed along with checking for any other associated infections.
If you think your child may possibly have molluscum contagiosum, do not hesitate to call the Center for Dermatology, Laser and Cosmetic Surgery. Dr. Farber has over 30 years of experience in helping pediatric patients and their parents with the latest medications and treatment options. Call Center for Dermatology, Laser and Cosmetic Surgery to book your appointment with Dr. Farber.
Philadelphia Main Line, Office
Center for Dermatology, Laser, and Cosmetic Surgery
915 Montgomery Avenue
Suite 204
Narberth, PA 19072
Phone: 610-664-4433
North East Philadelphia Office
Center for Dermatology, Laser, and Cosmetic Surgery
9892 Bustleton Avenue
Suite 204
Philadelphia, PA 19115
Phone: 215-676-2464