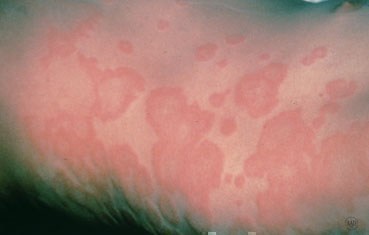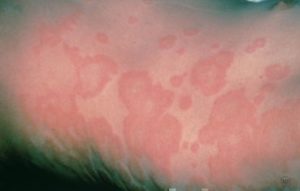 Hives or known urticaria are chronic hives that appear all over the body. The hives can last for six or more weeks. Urticaria can cause discomfort and interfere with daily activities. People that are diagnosed with urticaria often take an antihistamine and anti-itch medications for relief.
The cause of chronic hives is due to the release of histamines and other immunological chemicals in the bloodstream. It is difficult to tell the reason behind an individual's outbreak whether it may be acute or prolonged depends on what is triggering the skin to break out in hives. In some cases, chronic hives can be a result of an underlying disease such as
Causes of Hive Skin reactions
Medications
Insect or parasites bites
Infections
Temperature
Stress
Food
Alcohol
Rigorous activities
Symptoms include:
Patches of red bumps or skin welts that can appear anywhere on the body
Varying sizes of the bumps and welts
Swelling especially areas of the eyes, throat, and lips
Symptoms lasting longer than six weeks
At the Center for Dermatology, Laser and Cosmetic Surgery, Dr. Farber is up to date on the medications that are used to treat chronic hives. Dr. Farber has over 30 years of experience in properly diagnosing and treating the condition while giving patients hope of managing their symptoms leading to a healthier and happier lifestyle.
If you or someone you may know is experiencing chronic hives, do not wait. Call Center for Dermatology, Laser and Cosmetic Surgery and schedule your appointment with Dr. Farber.
Philadelphia Main Line, Office
Center for Dermatology, Laser, and Cosmetic Surgery
915 Montgomery Avenue
Suite 204
Narberth, PA 19072
Phone: 610-664-4433
North East Philadelphia Office
Center for Dermatology, Laser, and Cosmetic Surgery
9892 Bustleton Avenue
Suite 204
Philadelphia, PA 19115
Phone: 215-676-2464