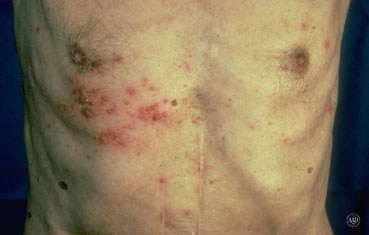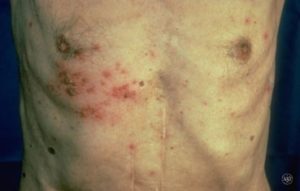 Shingles or herpes zoster is a painful rash caused by a viral infection. Shingles can appear anywhere on the body as a single stripe of blisters that appear on the left or right side. The virus, varicella-zoster is the same virus that causes the chickenpox. If an individual had chickenpox, the virus lays dormant in their body and can reactivate causing shingles.
The cause of shingles is caused by the same virus (Varicella-zoster) that is found in chickenpox. However, not everyone who had chickenpox will develop shingles later in life. Varicella-zoster is classified as a herpes virus which includes genital herpes but the virus that causes shingles and chickenpox is not the same virus that causes genital herpes. An infected person can pass on shingles to a person who is not immune to chickenpox.
Shingles Symptoms include:
Pain, burning sensation
Blisters filled with pus
Red rash
Itching
Fever
Headache
Fatigue
Risk factors for individuals include individuals 50 and older, certain illnesses such as HIV/AIDS, cancer and other illnesses that weaken the immune system.
Complications can arise if shingles are not properly treated including vision loss, neurological problems, and skin infections. Pain from the rash can still persist even after the infection is cleared.
At Center for Dermatology, Laser and Cosmetic Surgery, Dr. Farber has over 30 years of experience in treating patients with shingles. Dr. Farber is current on all the medical treatments used to either prevent or combat the infection giving patients the relief and peace of mind they need when dealing with something as painful as shingles.
If you or someone you know is experiencing a possible shingles infection, call our Philadelphia or Main line office of the Center for Dermatology, Laser and Cosmetic Surgery for an appointment with Dr. Farber.
Philadelphia Main Line, Office
Center for Dermatology, Laser, and Cosmetic Surgery
915 Montgomery Avenue
Suite 204
Narberth, PA 19072
Phone: 610-664-4433
North East Philadelphia Office
Center for Dermatology, Laser, and Cosmetic Surgery
9892 Bustleton Avenue
Suite 204
Philadelphia, PA 19115
Phone: 215-676-2464