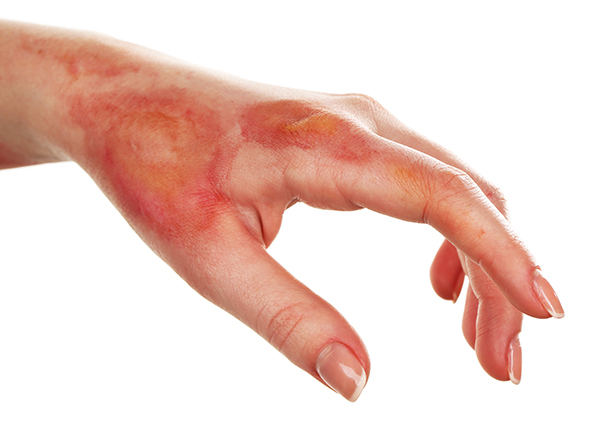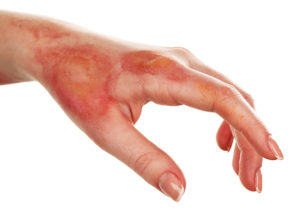 Burns can be a very serious issue, depending on the type of burn and the area in which the injury is located. Burn emergencies should be addressed. Do not ignore a burn, as it can become a severe condition leading to infection or even death. Burns can vary depending on degree of severity.
Skin burns are categorized as 1st, 2nd or 3rd degree burns.
1st degree burn
A minor burn the only affects the superficial (outer) layer of the skin
Redness and pain may be felt
2nd degree burn
A burn affecting the epidermis and dermis (second layer of skin)
Swelling, blistering and redness may appear
White, blotchy skin can develop after burn
Can cause scarring
3rd degree burn
Burn that reaches to the fat layer under the skin
Burned area exhibits color of brown and black
Skin looks leathery
Can destroy nerves causing unresponsiveness
At Center for Dermatology Laser and Cosmetic Surgery LLC., we see many patients with minor to moderate burns caused by cooking accidents, chemicals, sun burn, and airbags. Dr. Harold F. Farber has over 30 years of expertise in treating many types of skin burns using the current and latest topical medications and treatments.
Not only does he treat patients that may have recent skin burns, Dr. Harold F. Farber, M.D. also sees patients with scars from previous burn injuries. Burn scars can be treated with laser therapy or scar medications. At Center for Dermatology Laser and Cosmetic Surgery, LLC., we find that laser therapy can have dramatic and lasting effects on scar appearance and healing.
If you or someone you know may have suffered from a recent or past burn injury, do not wait. Call us at Center for Dermatology, Laser and Cosmetic Surgery to schedule your appointment with Dr. Harold F. Farber, M.D.
Philadelphia Main Line, Office
Center for Dermatology, Laser, and Cosmetic Surgery
915 Montgomery Avenue
Suite 204
Narberth, PA 19072
Phone: 610-664-4433
North East Philadelphia Office
Center for Dermatology, Laser, and Cosmetic Surgery
9892 Bustleton Avenue
Suite 204
Philadelphia, PA 19115
Phone: 215-676-2464