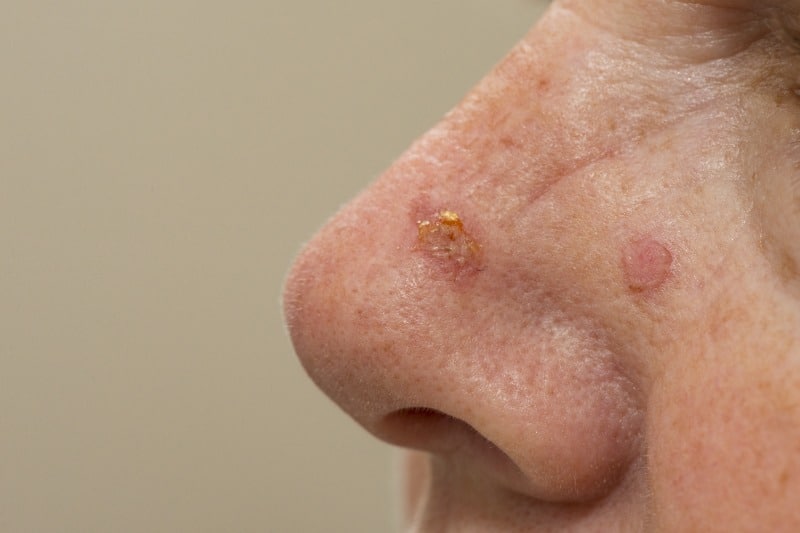 Actinic keratosis, or solar keratosis, are pre-cancerous growths that usually occur on fair skinned individuals who have had lots of sun exposure in the past. Actinic keratoses are slightly raised growths ranging in color, shape, and size. If actinic keratosis progresses and is left untreated, there is a risk that it will develop into a common type of skin cancer called squamous cell carcinoma. When caught early, squamous cell carcinoma is treatable. 
The cause of actinic keratosis is from frequent and intense sun or UV light exposure over time. Anyone can develop actinic keratosis but risk factors for an individual is more likely to develop if they are over the age of 40, frequent sun exposure from the past to present, limited use of sun protection, often usage of tanning beds, fair skin and light colored hair and eyes, easily sunburnt, and compromised immune system making an individual more susceptible to develop skin cancer and these pre-cancerous lesions.
Actinic Keratosis Symptoms include:
Rough, dry patches of skin
Can be scaly almost wart-like
Lesions can vary from being flat to raised
Can be irritated and painful, bleeding can occur
Colors vary from pink, red or brown
Lesions can be non-healing
Complications can arise if actinic keratosis develop into squamous cell carcinoma (abnormal growth of squamous cells) but can be detected and treated if caught early.
If you notice a lesion or bump on your body that is increasing in size or begins to bleed, please call to schedule an appointment. There are many ways to treat actinic keratosis including removal with liquid nitrogen. If you have a lesion or growth on your body and you do not know what it is, please call us to schedule an appointment. Dr. Harold F. Farber will review the risks of skin cancer, preventative measures, and complete a full body scan to check for any suspicious moles or lesions. 
Philadelphia Main Line, Office
Center for Dermatology, Laser, and Cosmetic Surgery
915 Montgomery Avenue
Suite 204
Narberth, PA 19072
Phone: 610-664-4433
North East Philadelphia Office
Center for Dermatology, Laser, and Cosmetic Surgery
9892 Bustleton Avenue
Suite 204
Philadelphia, PA 19115
Phone: 215-676-2464