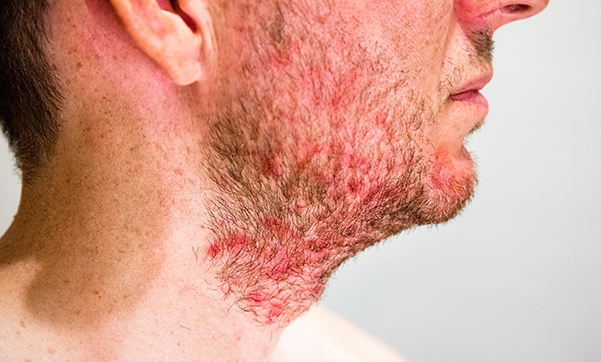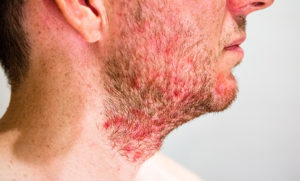 Folliculitis is a condition where hair follicles become inflamed. It is a common usually non-life threatening condition however, serious complications can arise if it is not treated properly. Folliculitis occurs when bacteria enters the body through open cuts or wounds. There are two main types of folliculitis: superficial and deep folliculitis.
Symptoms include:
Clusters of red papules or white-headed papules that surround hair follicles
Pus-filled blisters that can crust over
Itching
Burning
Painful and tender skin
Folliculitis can either be superficial or deep. Superficial folliculitis involves only part of the follicle while deep involves the entire follicle.
Forms of superficial folliculitis includes:
Bacterial folliculitis- Bacteria such as staphylococcus aureus (Staph a.) is the most common type found. This causes white-pus filled bumps.
Pseudomonas folliculitis- Known as "Hot tub" folliculitis. This can cause red, irritated papules that are itchy after one or two days after exposure to improperly kept hot tubs where pseudomonas bacteria thrive.
Pseudofolliculitis barbae- Commonly known as razor bumps. This is cause due to skin irritation when men shave too close to the skin. People who often go for bikini waxes may also experience this condition as well.
Pityrosporum folliculitis- Described as chronic, red, irritated papules found on the back and chest. Can also appear on face, neck, shoulders, arms and face. This is caused by a yeast infection.
Forms of deep folliculitis includes:
Gram-negative folliculitis- This type develops when a long-term antibiotic taken for conditions such as acne occurs
Furuncles and carbuncles- Commonly known as boils. Occurs when hair follicles are deeply affected by Staph a. Boils appear as a painful red or pink bump. A cluster of boils are known as carbuncles.
Eosinophilic folliculitis- This type more often but not exclusively affects people who may be immunosuppressed or are diagnosed with HIV/AIDS. Symptoms include itching and reoccurring red papules and pimples that are found on the face or upper parts of the body. Once healed, there is a possibility of developing hyperpigmentation (skin appears to be darker)
The cause of folliculitis is usually due to a type of Staph infection entering the hair follicle which produces an inflamed and irritated reaction. However other factors such as viruses and fungal infection can also inhibit folliculitis.
Folliculitis can happen to anyone but there are certain risk factors can make a person more susceptible to folliculitis. These include:
Medical conditions such as HIV/AIDS, diabetes, chronic leukemia that
can weaken the immune system
Shaving too close to the skin
Acne
Dermatitis
Wearing tight clothing such as pants or rubber gloves
Damage hair follicles from waxing frequently
Complications can arise if folliculitis is not treated properly. Complications such
as:
Recurrent infection
Boils forming underneath the skin
Permanent skin damage such as scarring and hyperpigmentation
Permanent hair loss
With over 30 years of experience, Dr. Farber is more than qualified to diagnosis and treat this condition at the Center for Dermatology, Laser and Cosmetic Surgery. Dr. Farber can effectively diagnosis and offer a variety of treatments right away. If you are suffering from the symptoms of folliculitis above, give us a call to book your appointment with Dr. Farber. Certain types of this infection can be resistant to older treatments. At Center for Dermatology, Laser and Cosmetic Surgery, Dr. Farber is up to date on the latest therapeutics for folliculitis.
Philadelphia Main Line, Office
Center for Dermatology, Laser, and Cosmetic Surgery
915 Montgomery Avenue
Suite 204
Narberth, PA 19072
Phone: 610-664-4433
North East Philadelphia Office
Center for Dermatology, Laser, and Cosmetic Surgery
9892 Bustleton Avenue
Suite 204
Philadelphia, PA 19115
Phone: 215-676-2464