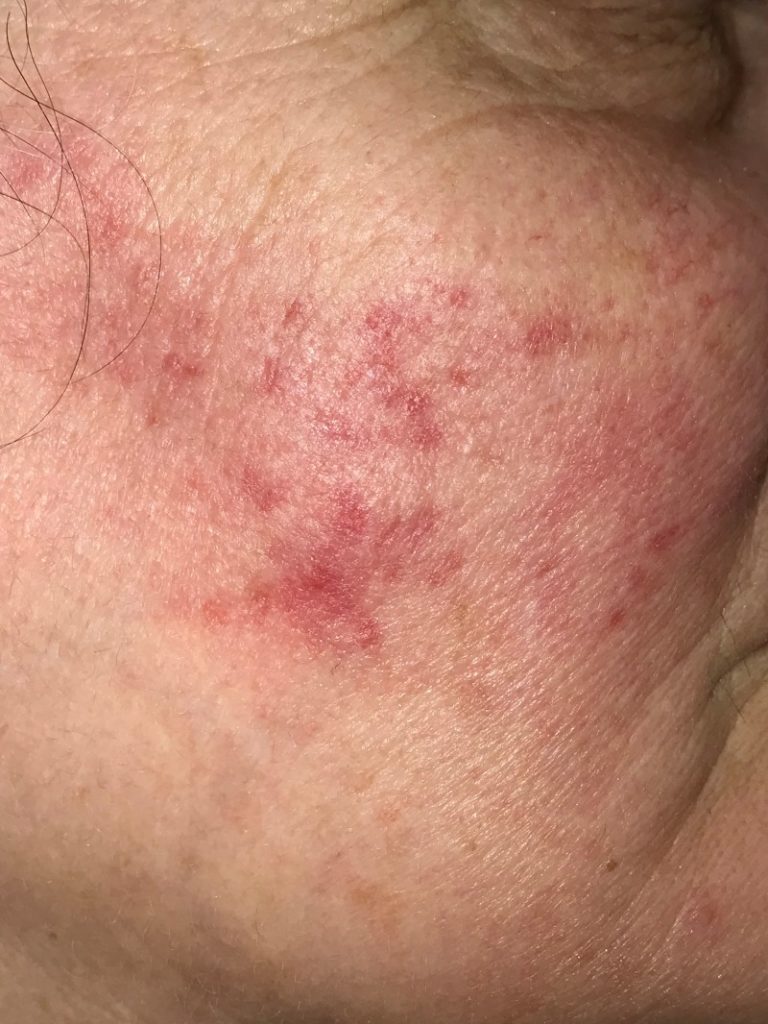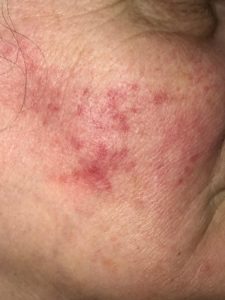 Rosacea is a common skin disorder that causes visible redness and blood vessels to appear on the face. Rosacea can appear in anyone but mostly affect women more often than men. Rosacea is often confused with an allergic reaction or acne due to small, red papules found on the face. Rosacea flare-ups can last for a period of either a week to months or longer. Rosacea can have a dramatic impact on one's life and Rosacea treatment is very thorough here at Center for Dermatology, Laser and Cosmetic Surgery in Philadelphia.
Rosacea Symptoms include:
Red bumps appearing to be filled with pus can be swollen and may feel warm to the touch and tender
Eyes difficulties such as dryness, swollen, irritation and eyelid redness can occur
Thickening of the nose creating a bulbous nose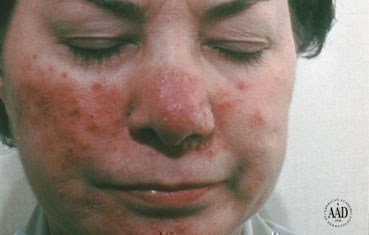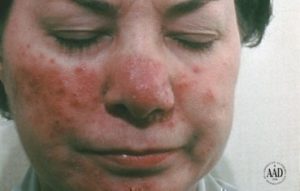 The cause of rosacea is mainly unknown but genetic and environmental factors are involved with the causation of rosacea. Rosacea is not contagious. However, rosacea can be triggered by:
Spicy foods
Alcoholic beverages
Extreme weather changes
Sun exposure
Emotional distress
Certain physical exertions
Certain cosmetic products
Certain medications ex., blood pressure
Risk factors for rosacea include individuals with fair skin, women are more likely to be diagnosed with rosacea, individuals over the age of 30, history of smoking and family history of rosacea or possible related skin disorders.
Complications can arise if rosacea is not treated properly. Sebaceous glands around the cheeks and nose can enlarge and result in rhinophyma (bulbous nose). Rhinophyma affects men more than women.
Dr. Harold Farber is an expert at treating the individual and unique variations of rosacea.  He uses multiple therapies including laser treatment, medications, light therapy, and new topical therapy treatments.
At Center for Dermatology, Laser and Cosmetic Surgery, Dr. Harold F. Farber, M.D. has over 30 years of experience in properly diagnosing and treating patients with rosacea. Dr. Harold F. Farber, M.D. is current on all the latest medical treatments helping our patients manage their symptoms giving them a better quality of life. There are very new medications and modalities that are now used to treat rosacea. Do not let rosacea control your life. We specialize in the curing or suppression of all medical dermatology skin conditions and can help you live a reduced stress life as we understand how frustrating skin conditions can be.
If you or someone you know is possibly experiencing symptoms of rosacea, do not hesitate to call either the Philadelphia or Narberth Center for Dermatology, Laser and Cosmetic Surgery to schedule an appointment with Dr. Harold F. Farber, M.D.
Philadelphia Main Line, Office
Center for Dermatology, Laser, and Cosmetic Surgery
915 Montgomery Avenue
Suite 204
Narberth, PA 19072
Phone: 610-664-4433
North East Philadelphia Office
Center for Dermatology, Laser, and Cosmetic Surgery
9892 Bustleton Avenue
Suite 204
Philadelphia, PA 19115
Phone: 215-676-2464