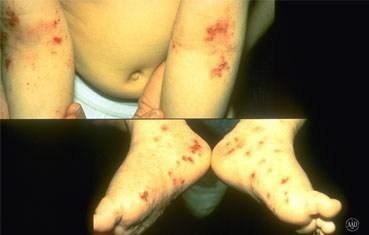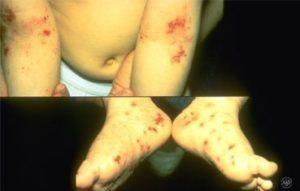 Atopic Dermatitis also is known as eczema is a skin disorder most common in infants and occurs in various age groups. These skin conditions usually cause by hereditary or chronic skin disorder. Atopic dermatitis can be very uncomfortable if not treated. It causes the skin to be very itchy, inflamed, flakes and cracks sometimes. Most people who have eczema developed early on in life. Even though is not contagious, it can affect an individual physically and mentally. The most common area for atopic dermatitis is usually located on the face, elbows, and knees. Atopic dermatitis although often affecting just one individual can dramatically change the quality of life for that individual as well as surrounding family.
The cause of atopic dermatitis is due to a gene variation that affects the skin's ability to retain protection and moisture. Environmental factors such as bacteria, allergens, and irritants can further the reaction.
Atopic Dermatitis Symptoms include:
Severe itching especially at night
Red to brownish-red patches where the rash occurs
Skin can be inflamed and swollen
Don't let atopic dermatitis destroy your life. Schedule an appointment with Dr. Farber. At Center for Dermatology, Laser and Cosmetic Surgery at our Philadelphia or Narberth Main Line Pa Office, Dr. Harold F. Farber, M.D. has over 30 years of experience in properly diagnosing and treating patients. Dr. Harold F. Farber, M.D. is current on all the latest medical treatments including topical medications, biologic s and lasering. Atopic dermatitis can't be cured but with suitable treatment, the rash can be put into complete remission. There are brand new treatments both topically and systemically that Dr. Harold F. Farber, M.D. is extremely adept at administering.
If you or someone you know is possibly experience atopic dermatitis, do not hesitate. Call Center for Dermatology, Laser and Cosmetic Surgery to schedule an appointment with Dr. Harold F. Farber, M.D.
Philadelphia Main Line, Office
Center for Dermatology, Laser, and Cosmetic Surgery
915 Montgomery Avenue
Suite 204
Narberth, PA 19072
Phone: 610-664-4433
North East Philadelphia Office
Center for Dermatology, Laser, and Cosmetic Surgery
9892 Bustleton Avenue
Suite 204
Philadelphia, PA 19115
Phone: 215-676-2464