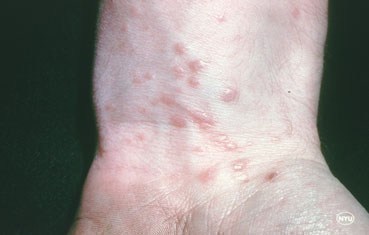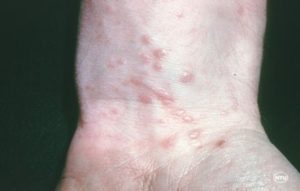 Lichen Planus is a skin disorder that causes inflammation of the skin, hair, nails and mucous membranes. Anyone can develop lichen planus but individuals of middle-age are often infected. Lichen planus normally appears as purplish, frequently itchy, flat bumps that developed over several weeks. Mucous membranes such as areas of the mouth and vagina form lacelike white patches that can cause painful sores. Lichen planus can disappear on its own after a few years however, the condition can worsen causing pain and severe itching.
The cause of Lichen planus happens when the body's immune system starts to attack its own cells resulting in the inflammation. There is oftentimes a root for lichen planus but it can be a challenge to isolate and get rid of this causative factor. All the more reason to make sure you are going to a knowledgeable and thorough doctor such as Harold F. Farber, M.D. The disorder is not contagious.
Lichen Planus Symptoms include:
Purplish, flat bumps around forearms, wrists, and ankles. Occasionally external genitals can be affected
Itching
Blistering, scabbing and crusts
Lacelike white patches in the mouth, inside cheeks, gums, lips or tongue
Painful ulcers found in the mouth or vagina
Hair or nail loss or damage
Complications can arise if the condition is not treated properly. Lichen planus that affects the vagina can cause sexual dysfunction and scar over a prolonged period of time. Lichen planus can cause hair loss. It also can be related to malignancy when involving the oral cavity.
At Center for Dermatology, Laser and Cosmetic Surgery, Dr. Farber has over 30 years in appropriately diagnosing and treating patients with this condition. Dr. Farber is up to date on the latest medical treatments helping patients managing their symptoms to lead a better quality of life.
If you or someone you may know is possibly experiencing lichen planus, call Center for Dermatology, Laser and Cosmetic Surgery to schedule an appointment with Dr. Farber.
Philadelphia Main Line, Office
Center for Dermatology, Laser, and Cosmetic Surgery
915 Montgomery Avenue
Suite 204
Narberth, PA 19072
Phone: 610-664-4433
North East Philadelphia Office
Center for Dermatology, Laser, and Cosmetic Surgery
9892 Bustleton Avenue
Suite 204
Philadelphia, PA 19115
Phone: 215-676-2464