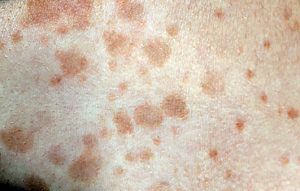 Tinea versicolor: It isn't harmful, but lots of men and women dislike how it discolors the skin.
Also known as pityriasis Versicolor
Most of us have yeast residing on the skin. If they grow out of control, an individual could find a skin disorder known as tinea versicolor.
If you think you may have Tinea versicolor, you should schedule an appointment at the Center for Dermatology, Laser, and Cosmetic Surgery. Here, Dr. Harold F. Farber, MD can inform you if you have a fungal infection in your skin. Yeast is a sort of fungus.
A lot of individuals get tinea versicolor. It's among the most frequent skin disorders in tropical regions of the planet. Individuals that reside in tropical regions might have tinea versicolor year-round.
Tinea versicolor: It often resembles a rash.
The very first indication of tinea versicolor is frequently spotted on the skin. These stains can:
The color of these stains can be white, cherry, peach, tan, red, or brown.
Appear anyplace on your system.
Be scaly and dry.
Become more evident when you've got a tan (the yeast prevents skin from tanning).
Grow gradually.
Disappear if the temperature drops and go back in the spring or summer when the air turns humid and warm.
The yeast which causes tinea versicolor resides on everybody's skin. It isn't apparent why the yeast overgrows on some people's skin rather than others.
People of all skin colors get it.
Teens and young adults are most vulnerable since they have greasy skin.
Older adults and kids rarely get it until they reside in a tropical or subtropical area.
People who reside in non-tropical areas frequently see tinea versicolor vanish through the cold, rainy months.
After the yeast overgrows, it causes skin infection tinea versicolor. It's believed that perspiration may cause the yeast to overgrow.
Tinea versicolor: The stains of tinea versicolor may be scaly and dry. Since the yeast grows, the stains could grow together.
TINEA VERSICOLOR: DIAGNOSIS AND TREATMENT
When you schedule an appointment at the Center for Dermatology, Laser, and Cosmetic Surgery, Dr. Harold F. Farber, MD may frequently examine the epidermis and inform if or not a patient has tinea versicolor. If there's any uncertainty, he will perform one of the following to make a precise identification:
Scrape off a little skin. This will be analyzed under a microscope.
Dr. Harold F. Farber, MD will look in the skin using a special device called a Wood's lamp. He will maintain the Wood's lamp approximately four or five inches from the affected area. If the individual has tinea versicolor, the skin looks yellowish-green in color when looked at with this lamp.
How do physicians treat tinea versicolor?
What Dr. Harold F. Farber, MD prescribes depends upon a number of things. These include where the tinea versicolor appears on the body, how much epidermis has tinea versicolor, and just how thick the stains have increased.
Treatment for tinea versicolor:
You will find antifungal shampoos, lotions, lotions, creams, and lotions which could keep the yeast in check. The active ingredient in these types of medications is frequently selenium sulfide, ketoconazole, or pyrithione zinc.
Medicated cleansers: Tinea versicolor regularly yields, particularly when someone lives in a location that's hot and humid. Employing a medicated cleanser once or twice per month, particularly during humid and warm intervals, can prevent the yeast from overgrowing again.
Anti-fungal tablets: Dr. Harold F. Farber, MD may prescribe these pills when the tinea versicolor covers a large part of their entire body, is thick, or frequently returns after it's treated.
Outcome
With therapy, the yeast is simple to kill. Skin, however, might remain lighter (or darker) for months or weeks. The skin will gradually come back to its regular color. To help even out skin tone, then you need to safeguard your skin from sunlight rather than tan.
Tinea versicolor can reunite. After the atmosphere outdoors is humid and warm, the yeast could easily grow out of control. Some men and women who reside in a tropical climate might want to use a medicated cleaner round to keep the yeast from overgrowing. Individuals that reside in a place that becomes moist and warm every spring could see tinea versicolor return each year.
In case tinea versicolor is gentle, you might have the ability to take care of it yourself. You will find antifungal products you could purchase without a prescription. These include:
Shampoo which includes selenium sulfide.
Anti-fungal lotion or ointment which contains miconazole, clotrimazole, or terbinafine.
Apply a thin coating of this antifungal lotion or ointment. Try this once or twice every day for a minimum of two weeks.
When employing a shampoo, then leave it in your scalp for 5 or 10 minutes before shampooing.
Some people today need stronger medication so that they visit a dermatologist. Whether You choose to self-treat or visit the Center for Dermatology, Laser, and Cosmetic Surgery in Philadelphia or on the Main Line, these tips can help you to get better results:
Stop using skin care products which are oily. Use products that are oil-free. The tag may read "non-comedogenic."
Wear loose clothing. Nothing ought to feel tight.
Protect skin from sunlight. A tan creates tinea versicolor a lot easier to see.
Again, a tan creates tinea versicolor a lot easier to see.
To get the best results, you want to safeguard your skin from sunlight. To do it, you must apply sunscreen daily. Make sure you use sunscreen 20 minutes before you go outdoors. And use it to all the skin which won't be covered by clothes.
Philadelphia Main Line, Office
Center for Dermatology, Laser, and Cosmetic Surgery
915 Montgomery Avenue
Suite 204
Narberth, PA 19072
Phone: 610-664-4433
North East Philadelphia Office
Center for Dermatology, Laser, and Cosmetic Surgery
9892 Bustleton Avenue
Suite 204
Philadelphia, PA 19115
Phone: 215-676-2464