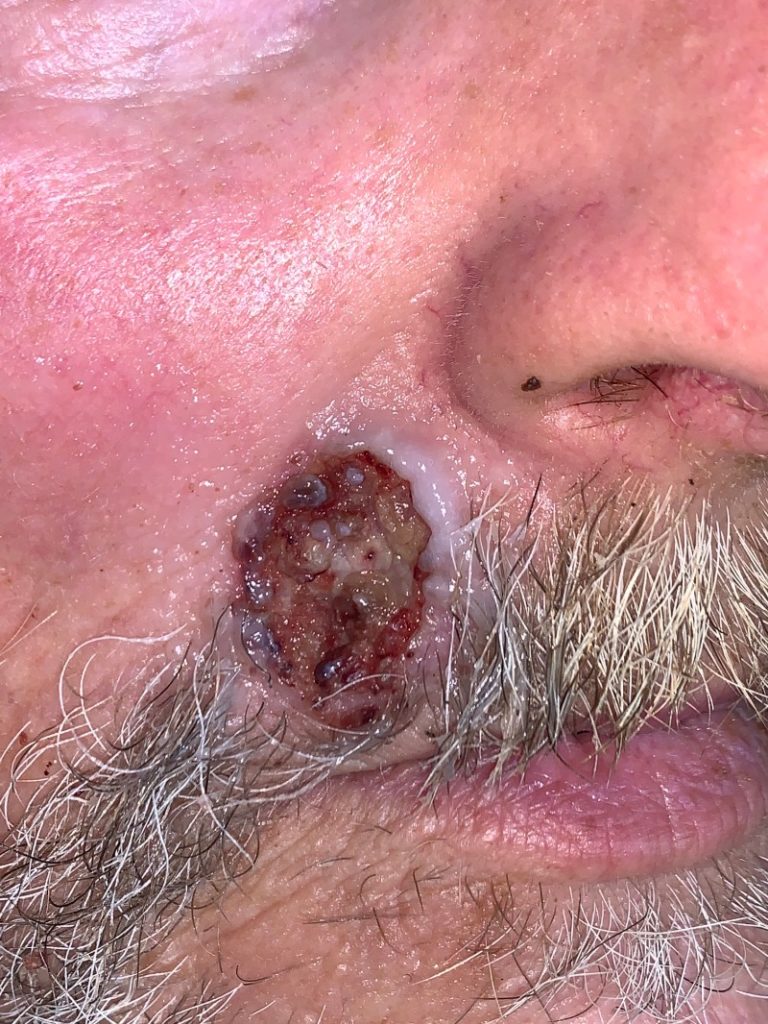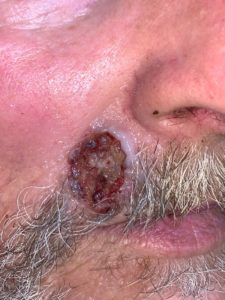 Basal cell carcinoma (BCC) is the most common form of skin cancer. Basal cell carcinomas usually develop on sun-exposed areas of the skin. The most common areas are the face, head, neck, back, and hand. Basal Cell Carcinoma grows slowly and rarely spreads to other parts of the body. Skin cancer is sometimes difficult to recognize and can be very dangerous.
The cause of BCC is due to a mutation within DNA. Basal cells are found at the bottom of the epidermis (superficial layer of the skin). Basal cells produce new skin cells pushing older to the surface of the skin. When a basal cell DNA is damaged, this causes rapid growth of skin cells leading to a cancerous lesion formed anywhere on the body.
Basal Cell Carcinoma Symptoms include:
Color of lesions can vary brown, blue to black
Can appear white, pink translucent like
Blood vessels can be seen on lesions
Can appear as a flat, scaly red patch
Top of the lesion can feel waxy
Risks for developing basal cell carcinoma include individuals who have prolonged exposure to the sun without the use of any sun protection like sunscreen or sun-protective clothing. Additionally, people who use tanning beds have a significantly higher risk of developing skin cancers. Genetics and family history may also play a role.
If you notice a mole or lesion on your body which changes in shape, color, or size, schedule an appointment with Dr. Harold F. Farber to have a skin cancer screening completed. Dr. Farber will review safety measures to prevent skin cancer and go over how to do a skin exam at home. There are many different treatment options for Basal Cell Carcinoma, depending on criteria such as depth and location. Treatment options include topical medications, oral medications, electrodesiccation, excisional surgery, MOHS micrographics surgery, radiation and other modalities that Dr. Harold F. Farber, M.D. can explain.
Philadelphia Main Line, Office
Center for Dermatology, Laser, and Cosmetic Surgery
915 Montgomery Avenue
Suite 204
Narberth, PA 19072
Phone: 610-664-4433
North East Philadelphia Office
Center for Dermatology, Laser, and Cosmetic Surgery
9892 Bustleton Avenue
Suite 204
Philadelphia, PA 19115
Phone: 215-676-2464