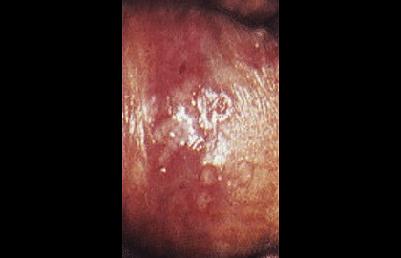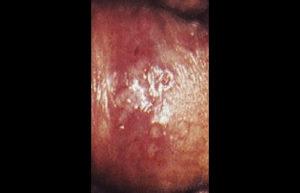 Genital herpes is a common sexually transmitted infection (STI) caused by the herpes simplex virus (HSV). However, the virus cannot survive outside the body so it is nearly impossible to contact herpes through contact with everyday objects such as toilets, towels and other everyday items used by infected individuals.
Once contracted, the virus resides in the body and can resurface several times a year. It is easier for a woman to contract genital herpes than men. It is easier to transmit the infection from men to women than women to men. Genital herpes can cause painful sores and itch around the genital areas. An infected still can pass genital herpes without the presence of sores. Sometimes an individual can contract genital herpes without ever showing signs or symptoms. There is no cure for genital herpes but medication is used to treat the symptoms and manage the disease.
Genital herpes can be caused by two types of HSV viruses. HSV-1 and HSV-2.
HSV-1 is the type that usually causes cold sores and blisters around the mouth. It is usually spread through skin-to-skin contact but it can also spread to the genitals through oral sex. It is less frequent than HSV-2 infections.
HSV-2 is the type that causes genital herpes. It is spread through skin-to-skin contact and it is highly contagious. It is the most common viral type to pass from an infected individual to another.
Risk factors for genital herpes include women or men are having multiple partners using no protection. Infected individuals are at more risk of contracting other sexually transmitted infections or diseases.
Genital Herpes Symptoms include:
Flu-like symptoms during the initial outbreak
Pain and itching
Red or white blisters
Ulcers
Scabbing over healing ulcers
Swollen nodules around groin areas
Headaches and muscle aches
Genital herpes can affect areas such as buttocks and thighs, anus, mouth and urethra in both men and women. Genital herpes can affect women in areas such as external vaginal areas and cervix. Men can be affected in areas such as the penis and scrotum.
Complications can arise if genital herpes is not diagnosed and treated properly including newborn infections that may result in brain abnormalities, blindness, and death. Bladder issues such as inflammation of the urethra causing pain and swelling. Proctitis known as rectal inflammation can also occur whereupon the lining of the rectum becomes inflamed.
At the Center for Dermatology, Laser and Cosmetic Surgery, Dr. Farber has over 30 years of experience in diagnosing and treating patients with genital herpes. Although there is no cure, Dr. Farber educates patients on managing their symptoms to precautions and prevention of passing it to other individuals. It is possible to have the condition under control so an individual is symptom-free and can lead a healthy and happy life.
If you or someone you may know is suffering from the symptoms described above, do not hesitate to call Center for Dermatology, Laser and Cosmetic Surgery and book your appointment with Dr. Farber. Please visit us in our Narberth pa dermatology office or our Philadelphia location.
Philadelphia Main Line, Office
Center for Dermatology, Laser, and Cosmetic Surgery
915 Montgomery Avenue
Suite 204
Narberth, PA 19072
Phone: 610-664-4433
North East Philadelphia Office
Center for Dermatology, Laser, and Cosmetic Surgery
9892 Bustleton Avenue
Suite 204
Philadelphia, PA 19115
Phone: 215-676-2464