Dr. Farber – Fox 29 interview on Swelling of Chrissy Teigen's lips.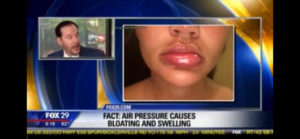 Dr. Farber – ABC News On Severe Eczema
Doctor's Choice Award 2016 Goes to Dr. Harold Farber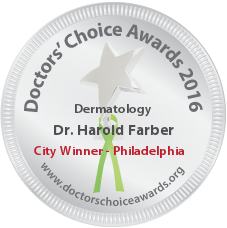 Dr. Farber In The Media
What Our Patients Have to Say
Watch video testimonials for Dr. Harold F. Farber MD and the Center for Dermatology below.
Patient Stories
Patient story #1
I am an over weight Latino man with multiple health issues. I came to Dr Farber for removal of the tattoo on my face. I was hoping to get rid of it at this age. I just recently become a grandfather. I didn't want my granddaughter to question my tattoo. I got this when I was very young. I went for a free consultation.
Dr Farber went over the treatment options and pricing with me. After that he said to me- "I know you are here just for this but do you have a dermatologist that you go to?" I told him no.
He said "Since you are here, would you like me to do a skin exam on you?"
He explained that since I work outside my whole life I can get skin cancer. He noticed a mole on my shoulder. He asked me how long do I have this spot there. I told him I don't know. I am always covered with dust since I work at a construction site. He said that this is not a mole – what you have there is a tick. I didn't know what a tick was. He than showed me the special tv screen in the room which had pictures of ticks. I told him that I get bites all the time especially in the summer with a laugh. He said this can be serious -you can get Lyme disease from this. I didn't know what Lyme disease was. Dr Farber gave me a 15 minute separate education on Lyme disease.
At first I came to see Dr Farber for a cosmetic consultation – then I walk out being his patient and getting blood work. Nobody at my job knows what a tick is. I then become a hero telling them what a tick is. I helped a friend relieve his pain by getting him proper treatment through Dr. Farber.
I have an appointment with Dr Farber in 2 weeks but he called me to tell me to come in ASAP. He went over my blood work and told me that I did in fact have Lyme disease myself and that this can be very serious. He wanted me to go to an infection disease doctor.
Who knew a tick bite can be that serious? I have a bad case of Lyme disease that explained why I haven't been feeling good. Dr Farber and the infection disease doctor worked together and treated me. Now I feel a thousand times better- I know why I haven't been feeling great and tired in past.
I appreciate Dr Farber – a fine young doc who in a way saved my life. I am a hero at my church and my work now. I explained to old folk and kids how important it is to check your body. A tick bite can look like a mole – it sucks your skin. I told my daughter to check my granddaughter every time she comes home from playing in the park.
Who knew at the age of 64 I am a hero and help people like my self to be alert and to be aware. Thank you my wonderful Doctor Farber!"