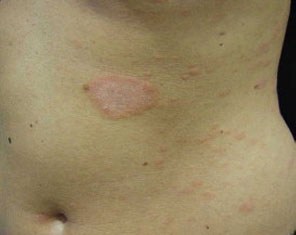 Pityriasis rosea is commonly found between the ages of 10-35. The skin condition that normally begins has a large, oval-shaped patch on the abdomen, chest or back. Occasionally, itching may occur. The patch is commonly known as a herald patch followed by smaller patches going across the body resembling a "Christmas" tree.
The cause of pityriasis rosea is believed to be a virus. Some suggestions indicate that the rash may be caused by a virus similar to some strains of the herpes virus however, it is not connected to the herpes virus that induces cold sores.  Dr. Farber is a member of the National Rosacea Society and has contributed to multiple publications on this topic.
Pityriasis Rosea Symptoms:
Large patch found on either abdomen, chest or back- known as the herald patch
Smaller patches found forming a shape of a "Christmas" tree
Scaling and itching occurs oftentimes severe and bothersome
Complications can arise if the condition is not treated properly. Severe itching and post-inflammatory hyperpigmentation (PIH) can occur leaving the skin with dark spots where the rashes were before.
At Center for Dermatology, Laser and Cosmetic Surgery, Dr. Harold F. Farber, M.D. has over 30 years of experience in properly diagnosing and treating pityriasis rosea. Not only can he treat pityriasis rosea, but
he can also treat the possible dark spots left from the skin disorder, Dr. Harold F. Farber, but M.D. is also current on all the latest medical treatments giving our patients instant relief and gratification.
If you or someone you know is undergoing possible symptoms of pityriasis rosea, do not wait. Call Center for Dermatology, Laser and Cosmetic Surgery to schedule your appointment with Dr. Harold F. Farber, M.D.
Philadelphia Main Line, Office
Center for Dermatology, Laser, and Cosmetic Surgery
915 Montgomery Avenue
Suite 204
Narberth, PA 19072
Phone: 610-664-4433
North East Philadelphia Office
Center for Dermatology, Laser, and Cosmetic Surgery
9892 Bustleton Avenue
Suite 204
Philadelphia, PA 19115
Phone: 215-676-2464