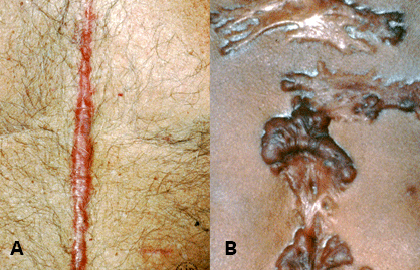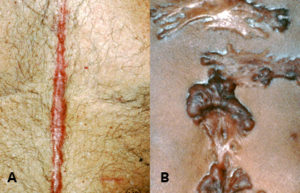 A keloid is a type of scar caused by an overgrowth of scar tissue. Keloid can take time to appear after a site of injury or can appear quickly. Keloids can grow larger over time. A keloid develops from injuries such as a cut or burn. Keloids can even grow from severe acne. People who had their ears pierce or have tattoos can also experience keloids growing about the piercing and areas of where the tattoos are. Some individuals have keloid-prone skin where they can easily grow.
Keloids can come in a variety of sizes. Keloids that are found around pierced ears are described as being a circular, solid area. Keloids that form on areas such as the chest or shoulders have keloids that spread into surrounding skin almost like dried out, hardened liquid. Keloids can occur from beard bumps and trauma to the skin as well as from acne scarring.  It is important to know and understand keloids do not cause cancer.
It is unclear what causes keloids but factors that contribute to the development of keloids such as injuries like a cut or puncture wound and from aesthetic procedures such as tattoos and piercings. Surgical scars can become keloids as well.
Keloid symptoms include:
Timing- keloids can develop 3-12 months or longer after initial scarring
Raised scars with colors of pinks, reds, and purples
Soft and tender to the touch
Some individuals can experience pain and itching
Most keloids stay in place
Can become darker in time
Dr. Farber has over 30 years of experience of appropriately diagnosing and treating patients with keloid scars. At the Center for Dermatology, Laser and Cosmetic Surgery, Dr. Farber is current on the latest medical treatments for handling this condition making sure our patients feel more confident coming out of the appointment knowing they are receiving the best of care. Often times, Dr. Farber can treat the keloid before it progresses and save a lot of emotional discomforts
.
If you or someone you know is distress from this condition, do not delay. Call us at Center for Dermatology, Laser and Cosmetic Surgery to make an appointment with Dr. Farber.
Philadelphia Main Line, Office
Center for Dermatology, Laser, and Cosmetic Surgery
915 Montgomery Avenue
Suite 204
Narberth, PA 19072
Phone: 610-664-4433
North East Philadelphia Office
Center for Dermatology, Laser, and Cosmetic Surgery
9892 Bustleton Avenue
Suite 204
Philadelphia, PA 19115
Phone: 215-676-2464